Adult Sports
Adult Sports Information
Pelican Park offers a variety of adult sports to serve our community. The purpose of the leagues is to provide an outlet for adults to continue to play their favorite sport, have fun, stay fit, and to socialize. The Park offers three (3) levels of play for the adult leagues…
Competitive Volleyball - This division is for the more aggressive player who wants to play the sport at a highly competitive level with no restrictions. No Officials
Recreational Volleyball – This division is for the less aggressive player who wants to play the sport at a slightly lower competitive level with no restrictions. No Officials
Just For Fun Volleyball – This division is for fun, socialization, and exercise. No Spiking and underhand serves only. No Officials
Recreation Softball Co-Ed & Men's (Spring and Fall Months) – This division is for fun, socialization, and exercise. There are umpires for softball.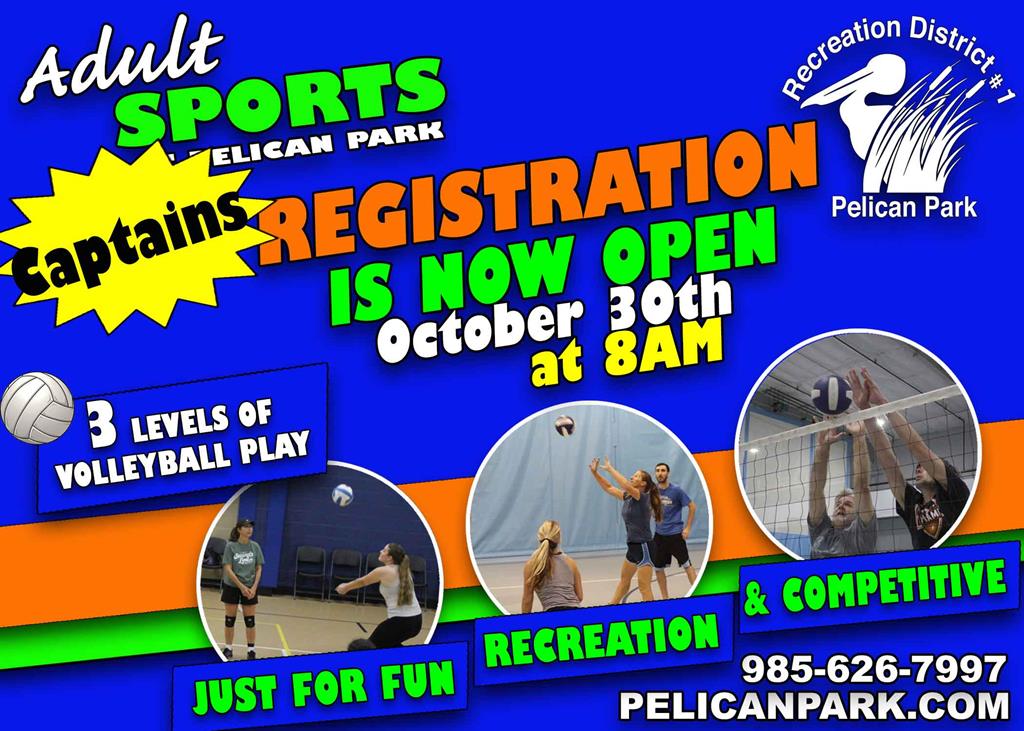 Adult Rule Books


Adult Registration will be done individually instead of by team. Please add your team captain and team name into your notes during registration
ALL CAPTAINS AND PLAYERS MUST HAVE AN ACTIVE ONLINE ACCOUNT AT PELICAN PARK IN ORDER TO REGISTER. PLEASE HAVE YOUR ACCOUNT SET UP PRIOR TO THE START OF REGISTRATION

.

PLEASE GO TO REGISTRATION AND SEARCH FOR INTERESTED LEAGUE FOR MORE INFORMATION.
We are always looking to expand our Adult Leagues. Please email Brennan at brennankuss@pelicanpark.com with any suggestions or comments to help improve or expand our leagues
Adult Sports Captain Information
ADULT LEAGUE CAPTAINS INFO AND TEAM RULES