About Recreation District #1/Pelican Park
Pelican Park serves as a vital part of the Northshore community. The 550-acre facility includes 32 athletic fields; a 3-court gym and a 4-court gym; the 46,000-square-foot, multi-purpose Castine Center; a walking trail, dog park, sand volleyball courts, and 18-hole disc golf course; and, completed in 2019, a $1.6 million recreation area, The Groves, that features 8 pickleball courts, outdoor fitness equipment, a boardwalk surrounding a pond, green space, and a family fun game area with horseshoe courts, bocce courts, and shuffleboard courts.
A SPECIAL THANK YOU TO OUR

PELICAN PARK SPONSORSHIPS:
CGB/Zen-Noh Grain Partner with Pelican Park Through

Four-Year Sponsorship Agreement

Recreation District #1/Pelican Park is pleased to announce a new sponsorship agreement with CGB Enterprises, Inc. (CGB), and its affiliated company, Zen-Noh Grain Corporation (Zen-Noh). The four-year agreement gives CGB/Zen-Noh exclusive naming rights to the Pelican Park Green Complex, which features four diamond fields used primarily for youth baseball.
"CGB and Zen-Noh are proud to be a sponsor of Pelican Park. Pelican Park is a premier multi-purpose complex that provides wonderful opportunities for children and adults alike. CGB and Zen-Noh's family of employees have, and will continue, to use these facilities for many years to come. We look forward to supporting a wonderful complex located in the hometown of our company's headquarters," explained Lance Rase, Senior VP at CGB.
CGB has been an innovative and progressive leader in the grain and transportation industries since 1969.
Headquartered in Covington, LA, CGB delivers solutions that include everything from buying, storing, selling and shipping of agricultural products, to global supply chain solutions. CGB has grown into an enterprise with more than 2,000 employees overseeing a diverse family of businesses.

Zen-Noh was established in New Orleans in 1979 with the goal of establishing a safe and stable supply of U.S. foodgrains and soybeans for the production of compound feed by Zen-Noh's feed mills in Japan.

In addition to the financial support the CGB/Zen-Noh sponsorship provides to Pelican Park, it also honors longtime Pelican Park supporter Larry Rase. Larry, who enjoyed a 26-year career with CGB/Zen-Noh, was president in the 1980's of the Fourth Ward Recreation Association, a volunteer group of local recreation advocates who first acquired the property and funding for Pelican Park's construction. Larry, who passed away in 2022, also led the effort to establish the Park's first – and current – sponsorship program.

"On behalf of the board and staff of Recreation District #1 / Pelican Park, I would like to express our sincere gratitude for the generous sponsorship from CGB Enterprises, Inc. and Zen-Noh Grain Corporation for the Green Triplex fields," Pelican Park Executive Director Jenny Dexter said. "We also recognize Larry Rase for his constant support of Pelican Park as an advocate and volunteer coach beginning with the park's inception in the 1980s and lasting until his passing. Pelican Park is honored to partner with CGB/Zen-Noh through this sponsorship as they are such great pillars in our community. We look forward to building new youth baseball programs and future memories in the CGB/Zen-Noh Green Complex."

Funds raised through the Pelican Park Sponsorship Program allow Recreation District #1/Pelican Park to invest in additional activities, programs, and facilities that would not be possible through the dedicated tax millage that is the primary – and almost exclusive – funding source for the Park.

Pelican Park serves the 75,000+ residents of Recreation District #1, and there are more than 1 million visitors to Pelican Park each year. The Park boasts 32 athletic fields, a 3-court gym, a 4-court gym, the recently renovated 46,000-square-foot multi-purpose Castine Center, a walking trail, a dog park, a skate park, sand volleyball courts, and an 18-hole disc golf course.

The Park is also home to The Groves, a 2019 addition that includes 8 pickleball courts, a covered outdoor fitness equipment area, walking trail with boardwalk, pond, green space and a family game area with 2 horseshoe courts, 2 bocce courts, 2 shuffleboard courts, and 2 corn hole sets. Also in 2019, the Park acquired the adjacent Northlake Nature Center (NNC) from St. Tammany Parish. The 200-acre NNC features a kayak/canoe launch, biking and hiking trails, and more, and has a history of hosting events such as moonlight hikes, group paddles, yoga, and birdwatching.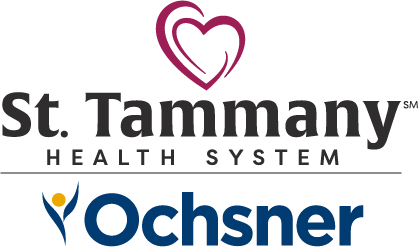 Wow! Pelican Park wants to offer a huge THANK YOU to the partnership of St. Tammany Health System and Ochsner Health, the Park's very first sponsor under our comprehensive new sponsorship program.
St. Tammany and Ochsner partnered with the Park as our Youth League Sponsor, which means you'll see their co-branded logo on all Pelican Park youth league uniforms and awards t-shirts for the next three years! Their endorsement of the Park's mission, "to make a difference in the lives of children and adults by meeting the recreation, sports, and social needs of more than 65,000 residents in the greater Mandeville area and beyond," displays an admirable commitment to our community at large, healthy lifestyles, and a superior quality of life for all who frequent Pelican Park.
Again, we say THANK YOU to St. Tammany Health System and Ochsner Health for their support of Pelican Park!
About the partnership of St. Tammany Health System and Ochsner Health
St. Tammany Health System and Ochsner Health work together in partnership to improve this community's health and quality of life, today and for the future. Together, they represent the most complete system of care, aligning west St. Tammany's top two independent health leaders behind the common goals of improving access, expanding specialty care and making care affordable. Learn more at StTammany.health and Ochsner.org.
About the Pelican Park Sponsorship Program
To learn more about the Pelican Park Sponsorship Program and how to become a sponsor of one of the Park complexes or one of its numerous special events, visit https://pelicanpark.recdesk.com/Community/Page?pageId=27410.
We invite you to take a look through this catalog of unique
sponsorship opportunities below to decide how your

organization can best support Pelican Park and the

65,000+ Recreation District #1 residents we serve.

Don't see a perfect fit? We can customize a package that

suits your needs and helps you reach more than 1 million

Pelican Park visitors each year.
For more information, contact Ripple Resources