Save the dates for these upcoming
Youth Sports Camps and Clinics:
Summer Basketball Clinics for 4-6 yr old's Saturday Mornings (July 2-August 6th)
Registration will be open May 30th - July 1st
6 yr old Girls: 9:00-9:45am (Max of 20) $25
6yr old Boys: 10:00-10:45am (Max of 20) $25
4-5 yr old Boys and Girls Little Dribblers: 11:00-11:45am (Max of 30) $25
Fast-Pitch Softball Clinic for 9-15 yr old's: Mid July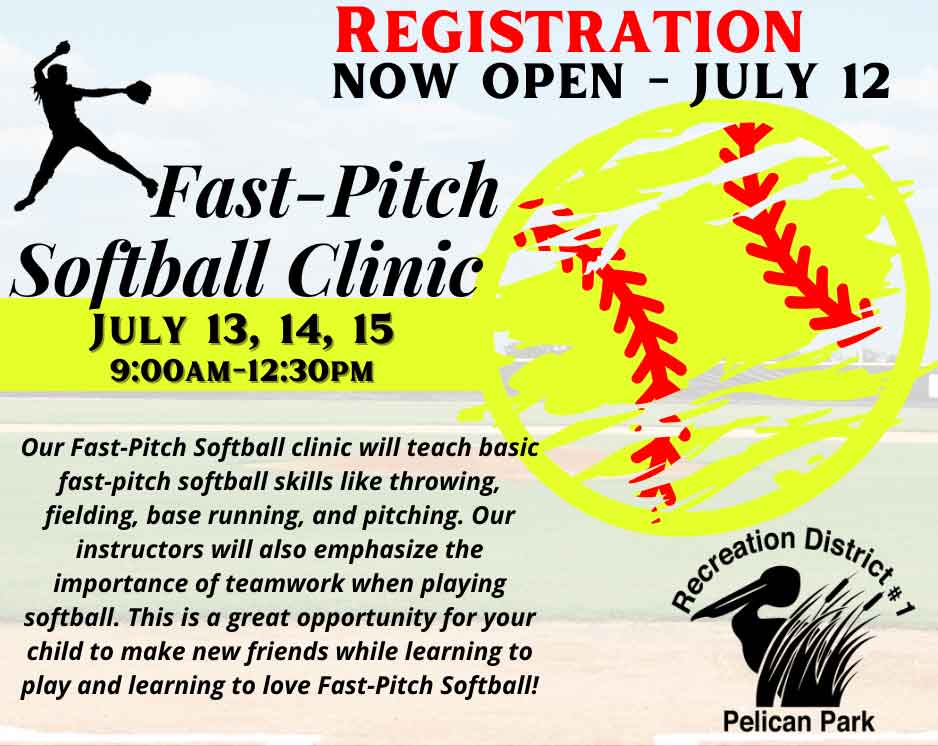 The lead instructor for Pelican Park's Fast-Pitch clinic is Pryscilla Prince. Pryscilla is a former Southeastern Louisiana University softball player. She is currently the head coach of a local fast-pitch softball team. Pryscilla will have a few current and former SLU Softball players here at the clinic to help create opportunities for our community.
Pelican Park's Fast-Pitch Softball Clinic will be held for 3 days: July 13th, 14th and 15th from 9am-12:30pm for ages 9-15.
$85 for District Residents
$95 for Out of District Residents

Volleyball Clinic for 7-10 yr old's: Early September
Boys Volleyball Clinic for 10-15 yr old's: Early September
Lacrosse Clinics for 5-13 yr old's Sunday Afternoons (September 11th-October 2nd)
Registration will be open August 1st- August 31st
$75 Rental for equipment (refundable after clinic)
5-9 yr old's: 4:00-5:00pm (Max of 25) $30

10-13 yr old's: 5:00-6:00pm (Max of 25) $30
Science has proven that an increase in "screen time" and lack of time spent outdoors has an adverse effect on children. Contact with nature awakens our senses. Consider the smell of an ocean breeze or the sweet scent of a freshly mown hay field. Close your eyes and listen to the story a songbird sings to greet the day and the soothing hoot of an owl putting the day to rest. Taste a sun-warmed blueberry or the single droplet of sweetness inside the flower of the honeysuckle bush. Touch the smooth back of a frog or the soft fur of a rabbit.
By allowing children to explore and spend time with nature, we can foster and renew this connection with the natural world, which has been lost to classrooms and technology. *Louv (2008) states that "Natural play strengthens children's self-confidence and arouses their senses" (p. 186). *Louv,R. (2008). Last child in the woods: Saving our children from nature-deficit disorder (Updated and expanded). Chapel Hill, NC: Algonquin Books of Chapel Hill.
Children who learn and play outdoors are healthier and more socially well-adjusted, not to mention, their attention span is superior to children who spend the majority of their time indoors. Our program addresses the whole child, his or her cognitive development, of course; but also social, emotional, communication and self-help areas of development.
Join us for this exciting, thought-provoking, fun summer experience!
Click the button below to Register
Select "Camps" on the left side under filters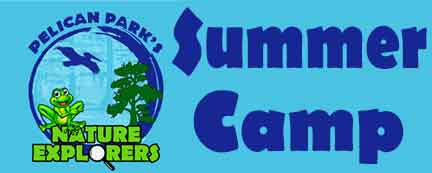 Pelican Park has partnered with local community robotics team, Dark Matter Robotics to bring engaging and innovative activities to our patrons. We invite children ages 8-11 years to engineer and engage with hands on demonstrations and experiments. Over the course of two days, participants will learn to create codes using a coding cube and personal laptop or tablet.
Registration is NOW OPEN
June 16th and 17th - 9:00am:
June 16th and 17th - 1:30pm:
July 25th and 26th - 9am:
July 25th and 26th -1:30pm: