Environmental education workshops and events at pelican park
Environmental Education

Environmental Education at Pelican Park
Pelican Park Nature Explorers Summer Camp
Why Nature-based?
Science has proven that an increase in "screen time" and lack of time spent outdoors has an adverse effect on children. Contact with nature awakens our senses. Consider the smell of an ocean breeze or the sweet scent of a freshly mown hay field. Close your eyes and listen to the story a songbird sings to greet the day and the soothing hoot of an owl putting the day to rest. Taste a sun-warmed blueberry or the single droplet of sweetness inside the flower of the honeysuckle bush. Touch the smooth back of a frog or the soft fur of a rabbit.
By allowing children to explore and spend time with nature, we can foster and renew this connection with the natural world, which has been lost to classrooms and technology. *Louv (2008) states that "Natural play strengthens children's self-confidence and arouses their senses" (p. 186). *Louv,R. (2008). Last child in the woods: Saving our children from nature-deficit disorder (Updated and expanded). Chapel Hill, NC: Algonquin Books of Chapel Hill.
Children who learn and play outdoors are healthier and more socially well-adjusted, not to mention, their attention span is superior to children who spend the majority of their time indoors. Our program addresses the whole child, his or her cognitive development, of course; but also social, emotional, communication and self-help areas of development.
Join us for this exciting, thought-provoking, fun summer experience!
Click the button below to Register
Select "Camps" on the left side, under filters.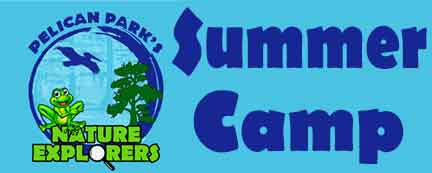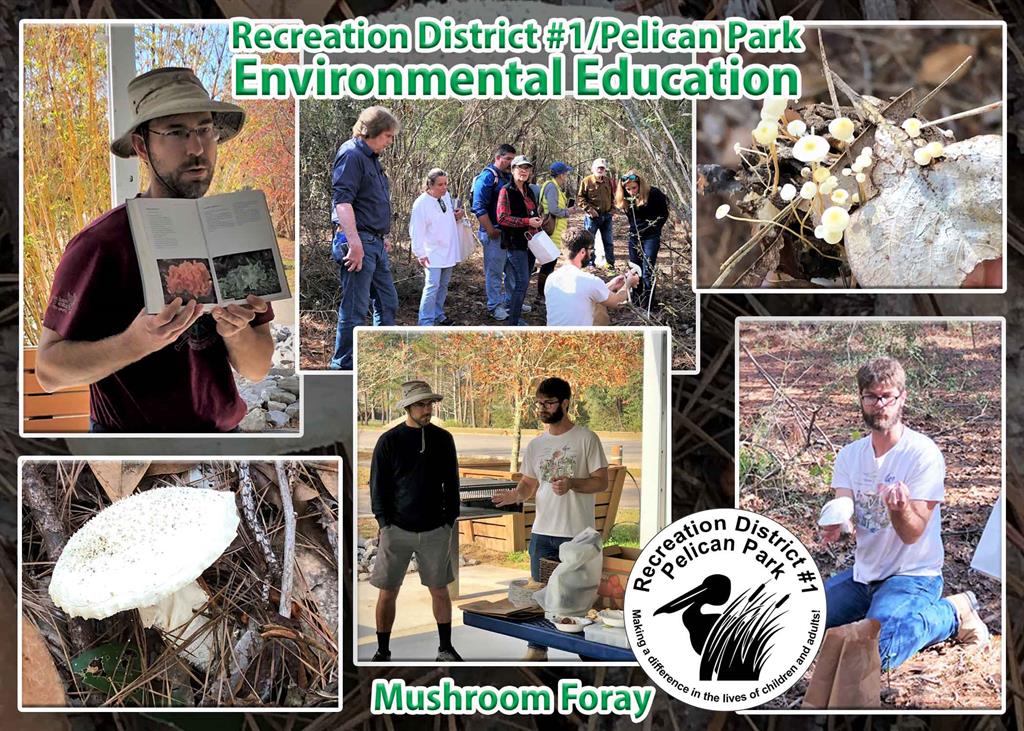 If you would like the Documents from the Mushroom Foray workshop click the link below:
/RecDeskPortal/Portals/514/Mushroom Foray Class Documents.pdf
Iris Planting at Pelican Park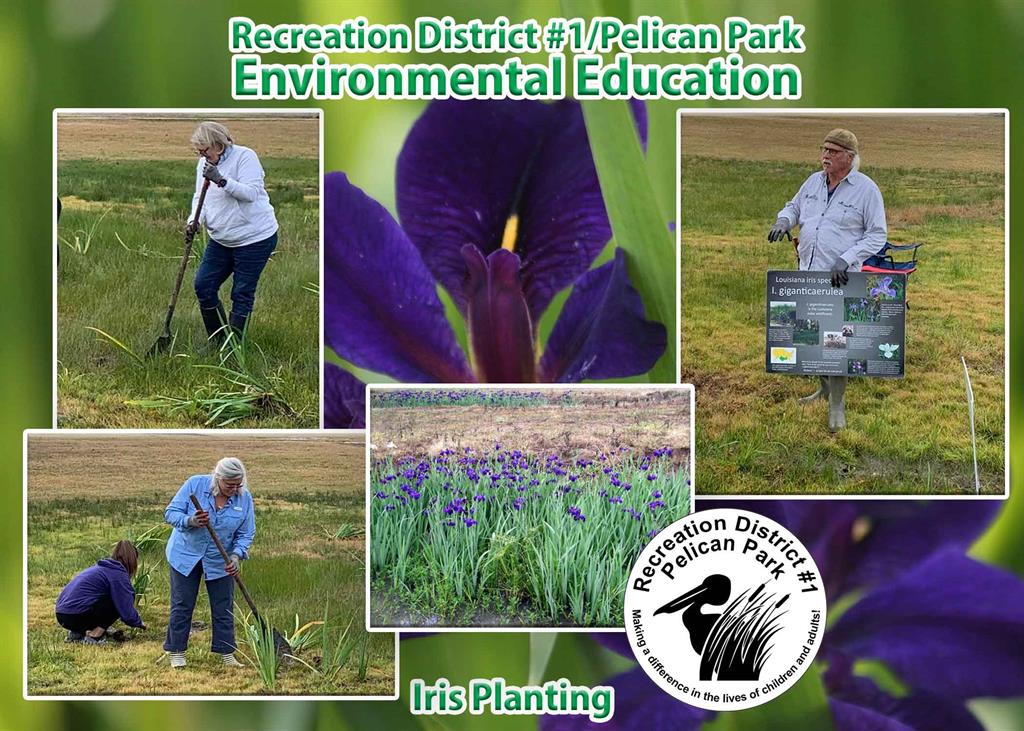 Thank you to the Louisiana Iris Conservation Initiative (LICI) and local volunteers that came and spent Saturday, January 15th with us and planted 200 beautiful Irises that we can watch grow and prosper at Pelican Park!!
Pelican Park, Recreation District #1 through its Environmental Education Program, partnered with Dr. Logan Wiedenfeld, Gulf States Mycelium Society and Matthew Herron, Environmental Education School of Coastal Plains, who conducted a workshop on Saturday, December 4, 2021. The workshop was held at the Pelicans Landing Pavilion and consisted of a mini-lecture to get oriented on the world of mycelium followed by a field walk to identify and collect mushrooms.
Thank you to the knowledgeable presenters that volunteered their time and the students that came out to learn with us. They all took a beautiful field walk together, where they enjoyed finding a variety of mushrooms. When the class came back to the Pelicans Landing pavilion, they were able to look at their findings through a microscope a discuss and identify each one!
Mushroom Foray Workshop - Friday, May 13, 2022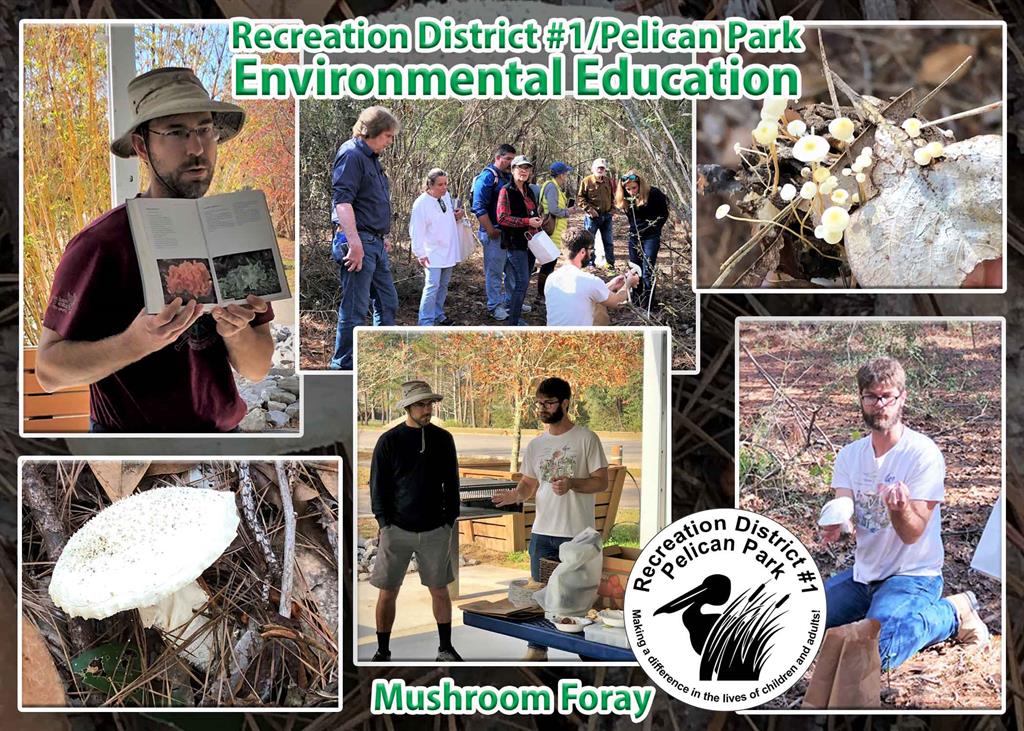 If you would like the Documents from the Mushroom Foray workshop click the link below:
/RecDeskPortal/Portals/514/Mushroom Foray Class Documents.pdf
Managing and Protecting Trees Workshop
The Monarchs Journey North
The fourth generation of monarchs will soon begin their journey south on their annual migration to overwintering sanctuaries in Mexico and Michoacán, Mexico. Watch the Journey North's interactive maps to find out when the first monarchs arrive in the sanctuary region (typically around November 1st).
Click the link below to see the interactive migration of monarchs and you can also mark your sightings of monarchs, bald eagles humming birds etc...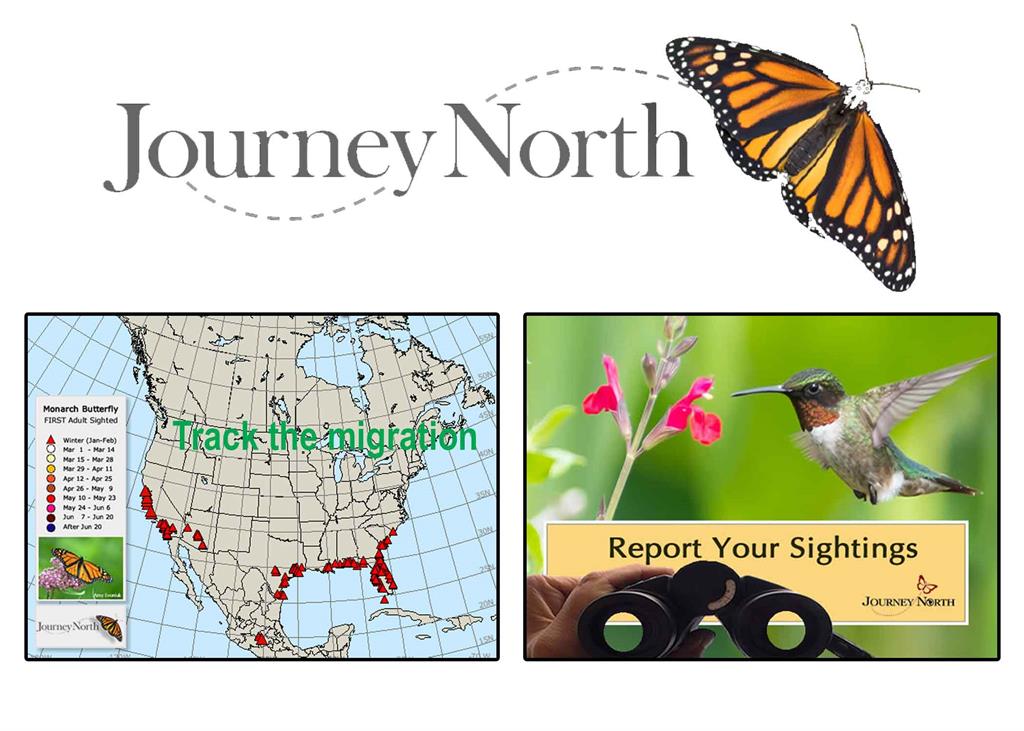 Earth Day 2021
For more Earth Day Activities, click the button below:

LA Department of Wildlife and Fisheries Workshop on the Red-cockaded Woodpecker
The Importance of Pollinators
Please Join us for our next Environmental Education Event
If you have questions or would like to learn more about what you can do to help in our community, you can contact Pelican Park's Environmental Educator, Louisette Scott at:

LouisetteScott@pelicanpark.com
Please makes sure to share your activities with us at:

#PelicanParkLearnWithUs
#PelicanParkFun